Celebrating 170 Years of God's Faithfulness!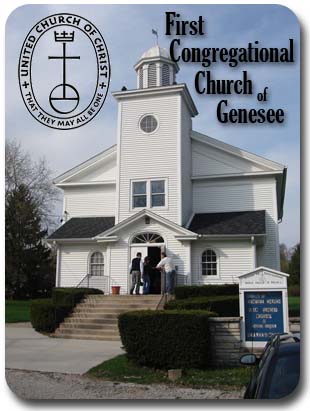 As of June 20th, 2021 we are back worshiping in our sanctuary and masks are optional but not required.  We welcome you back with open arms.  Zoom services are still offered as well!!!
ALERT: Worship services move from 10:30am to 9:00 am starting Sunday, July 18th, 2021.  And, we will return to 10:30am worship on January 16th, 2022!
The First Congregational Church of Genesee is celebrating our 170th year! (We were founded before Wisconsin was admitted to the Union!)
Upcoming Events:
Car Show – Saturday, September 11th, 9AM to 2PM
Pig Roast, Saturday, October 9th, 4-7PM
The Messenger News letter's most current copy is available for download here:
Messenger, November-December, 2021
HISTORY
To celebrate our past and God's faithfulness, we've put together a nine-part history of Genesee Church, from 1843 to the present. You can download each section below!
Verse of the Day
"The Lord is my Shepard, I shall not want.  He makes me lie down in green pastures; He leads me beside quiet waters.  He restores my soul; He guides me in the paths of righteousness for His name's sake.  Even though I walk through the valley of death, I fear no evil for You are with me.  Your rod and Your staff, they comfort me.
Psalm 23:1-6